2015 Giant TCX SLR 2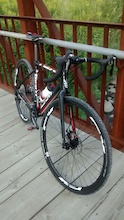 I originally wanted to look for remaining 2014 stock on clearance, but ended up getting a good deal on a brand new 2015 model, hot off the container ship from Taiwan.
So it's a purpose built for cyclocross, and generally getting dirty and stuff.
I usually don't like getting dirty, but I watched some cyclocross last season and looks like a ball, so I will give it a try, at the Midweek Tuesday Cross at Centennial series.
It's also nice to be able to roll over potholes and cracks on downtown streets, so when outside of cyclocross, I will slap on some road tires and use it as a super commuter.
This could be a start to a beautiful relationship!
Thanks to Jeff and the guys at Cyclepath Oakville for setting me up.